Trace Mayer, J.D. - A leading monetary expert on Bitcoin and gold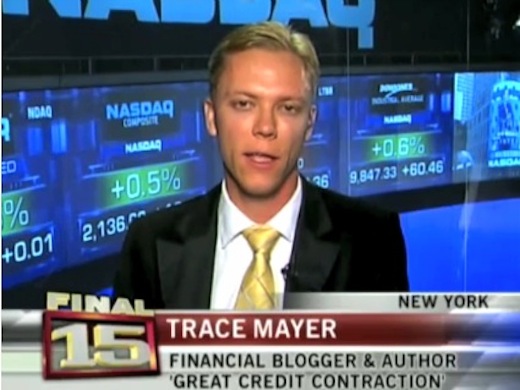 Trace Mayer is an entrepreneur, investor, journalist, monetary scientist and ardent defender of the freedom of speech.
He holds a degree in Accounting and a law degree. He has studied Austrian economics focusing on the work of Murray Rothbard and Ludwig von Mises.
Trace is a strong advocate of the freedom of speech, operates Run To Gold and How To Vanish, has authored The Great Credit Contraction and co-authored How To Vanish The Book, Bitcoin Beginner's Guide and A Lawyer's Take On Bitcoin And Taxes, is a member of the Society of Professional Journalists and the San Diego County Bar Association.
Trace Mayer has appeared on Canada's national financial network BNN, BBC, ABC, NBC, many radio shows, conferences, to many private groups and is syndicated through Seeking Alpha, Yahoo! Finance and MarketWatch.
In 2009 On Business News Network - Canada's premier business news channel
Trace Mayer
was among the first popular bloggers to publicly recommend Bitcoin in its infancy with a market cap under $2m and well before its massive rise over $2.5B in April 2013.
In 2013 On FOX Business
Trace Mayer
serves on the Editorial Board for the
Bitcoin Magazine
which receives millions of visitors per year and has presented on Bitcoin, both objectively and persuasively, to a wide variety of audiences including members of the Federal Reserve, Bundesbank, major financial institutions, HNWIs, conferences and many others.
So if you like, use or have profited from Bitcoin then there is a chance you were directly or indirectly influenced by Trace Mayer.

Trace Mayer
can perform interviews with journalists, bloggers, radio hosts and other content producers and is available for speaking engagements.

-----BEGIN PGP PUBLIC KEY BLOCK----- Version: OpenPGP.js v.1.20121015 Comment: http://openpgpjs.org xsFNBFDQscwBEACExMmEfdFrHCX17jPYgJMl20Bmz8Vs/YasndMXNIF04TXl BwhUcO5XnfKBRVfwixEXaTDTSX8oxgSfkxGqADado0HPWNAWRFhgExSeK3Sj GF/TJbc75rvwGVxySYN3ybl/xBrEFzG+YImtmrhjBMNNp7+ZOzORnSiUlNts Fiw/SAbM6EZqFvmHd/pFYeIjw7FL5Xx09sGozfLORNBsb/LGLwzWUZy+4Kbr C+amPw81T6LCvxgqS5QHczfilsezX0jq9++plB76P3Od+CgRw/oGFyglyNPG Zp6SfpV8Vt8NeFqcD7VAeNs8pde2uKSCzmsEunTmLlL1AFsPRCWIaBTnr8JH EQraaycAfZj97Ep4HXnI2IAAtyUFkeVqX2g1G14EOYK3vU6fokg/aSEqDs/b YHgjsYKTPHKeyz0ZXVZczFqdJAOD+KIb1T1f0iWU8sVIqJIy17j7/iLYk+pE DbikZgLpqjSJqV/zwrij3xxprJpz0B0NvgHO4eoS0Y4yLQ2m/2GLK7a5ZCh/ WU8pYR2pKcvIu+Ul5DPFpu2uDLBG+4RzpKMXI2h1VE52I20lEZNi2yZjeOAa ZDtAGbZWbFWB9opXgAaxxkGhsQwrgRJMRbzIG8N6SyVfHjPpxXItdi0bN8G9 AuMhPXm0ty/sgsjQa8rjb9whaIbgXHTIQlDbSQARAQABzSkiVHJhY2UgTWF5 ZXIsIEouRC4iIDx0cmFjZUBydW50b2dvbGQuY29tPsLBXAQQAQIAEAUCUNCx 8QkQDy1kDvXfo9UAAJXxD/9WLGJ7ajJuuUr25BueZ6Q65gLbcSJT41oh/B/z He87E91i+HNf6cUeQrUKDMypNrfDDNdcttlWQAuzyLT1XDxuyWCg8czFDI2E rDcD1hZMz2nClnBG9B02tAZuZGcxYSYG5kqEqDi6+UxNpZr6eKTHzZAVaqHD Q5DBzQCb/rs2ofsr06OTxlU1TPOO2TCYgGbi65a8kgFZgPRyFIVe5k822r7d AoWBghWGzHaMhjK6HHA5aUTR5FASv4v94ZktImVJIkvToTb2Wzl4qBz/tsla 6jOu53fz9XkAqo1YkUzRKVCvntzPpr88C7wOqzwdjf/PnqAXitN7L+I4rpwF 2rP54nG5k9nfBn4McH4MmDs2DmUEDz7a1YqtilULf7jdiEq9oKDDcqNiWLPV 3XP9Kk/+6u4tWzGv0HzYXehh8vJWGI7BDMxfs9IqdbtdWCZujYEAwTnGr1Tt 8yW2cJFw2tYtjTYFuY4hTSxTNvNcEqH5L7qFmoLaimKqEoNe9Zt1gJYbeCGi SS1zey8S6bMFG92oBwN/af7yMz2iDK/euFJ0ltNzPAsw+Qo8ZKijzQ5Ul3p3 KjrrNAKggT6FprRjFf53s+P2NCK5iB8V4X/B4Cr+9LsblVTDkCbKAnmDLGT7 0cVg+Ey9LTO8ykY7qdYyH5hPi/KFf0u9CyKZh8Gzq/e/PQ== =8J83 -----END PGP PUBLIC KEY BLOCK-----
What is that gobbly gook above?